Higher education certificated by the footwear technical school IES La Torreta in Elda, Alicante in 1989
His professional Carrer  after several years of inmersión in the craftsmanship, began in 1992 in DESIGN NETWORK S.L. as a design assistant collaborating in companies such as KENNETH COLE in the USA, NEXT and OASIS in the UK. Intellectually participating in the construction of the collections and carrying out the development and execution processes.
In 1996, he joined MANGO's (Punto Fa S.L.) accesorios team with the aim of promoting the footwear section assuming responsibilities in design and operations.
From 2002 to 2006, he continues the collaboration with MANGO as an external outsourcing and in parallel he creates CALZADOS JUAN ANTONIO LOPEZ S.L., a design and distribution company for women's footwear under the eponymous brand. Subsequently, CALZADOS SUSPIRA S.L. dedicated to the footwear manufacture.
After the first collections, with the recognition of the brand by specialized media and positioned in the best sales points along the country, the brand will be consolidated with the opening of its own stores, Barcelona and Madrid.
He collaborated in design and manufacturing with top-level brands in the national scene of the moment; 
LOEWE, ANGEL SCHLESSER, CUSTO BARCELONA, AILANTO, MIGUEL PALACIO, AMAYA ARZUAGA, CARMEN MARCH, MIRIAM OCARIZ, ROBERTO VERINO o TERESA HELBIG.
Throughout these years, he collaborated with the IED in its footwear design masters and he was a member of the international curators team for the BOGOTA FASHION WEEK 2018 and 2019.
He is currently a founding partner of the leisure wear company ARRELS BARCELONA.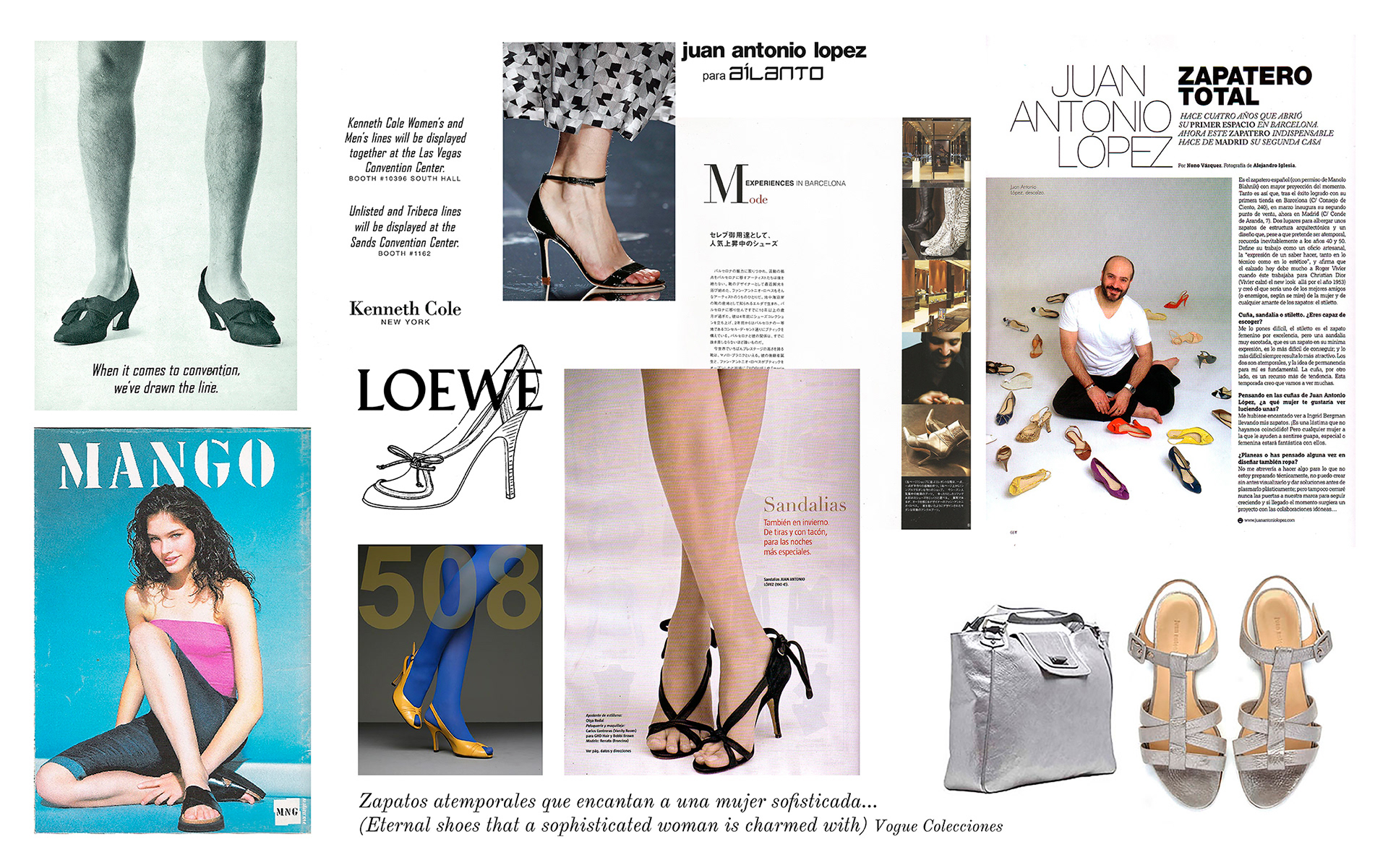 Técnico especialista en Calzado por el IES La Torreta de Elda, Alicante en 1989
Su trayectoria profesional, tras los primeros años de inmersión en el oficio, se inicia en 1992 en DESIGN NETWORK S.L. como asistente de diseño para empresas del renombre de KENNETH COLE en USA, NEXT y OASIS en UK, Participando intelectualmente en la construcción de las colecciones y ejecutando los procesos de desarrollo.
En 1996 entra a formar parte del equipo de complementos de MANGO, (Punto Fa S.L.), con el objetivo de impulsar la sección del calzado asumiendo responsabilidades en diseño y operaciones.
De 2002 al 2006 sigue colaborando con MANGO como outsourcing externo y paralelamente crea CALZADOS JUAN ANTONIO LOPEZ S.L., empresa de diseño y distribución de calzado para mujer con marca homónima. Posteriormente se creara CALZADOS SUSPIRA S.L. dedicada a la fabricación del calzado. 
Tras las primeras colecciones, con el reconocimiento de la marca por los medios especializados y posicionada en los mejores puntos de ventas del país, la marca se consolidara con la apertura de dos tiendas propias,  Barcelona y Madrid.
Colabora con diseño y fabricación con marcas de primer nivel en el panorama nacional del momento; LOEWE, 

ANGEL SCHLESSER

, CUSTO BARCELONA, AILANTO, MIGUEL PALACIO, AMAYA ARZUAGA, CARMEN MARCH, MIRIAM OCARIZ, ROBERTO VERINO o TERESA HELBIG.
A lo largo de estos años ejerce como docente en el IED impartiendo clases en los master de diseño de calzado y es integrante del equipo de curadores internacionales para la BOGOTA FASHION WEEK 2018 Y 2019.
En el presente es socio fundador de la empresa dedicada al leisure wear ARRELS BARCELONA.
​​​​​​​​​​​​​​